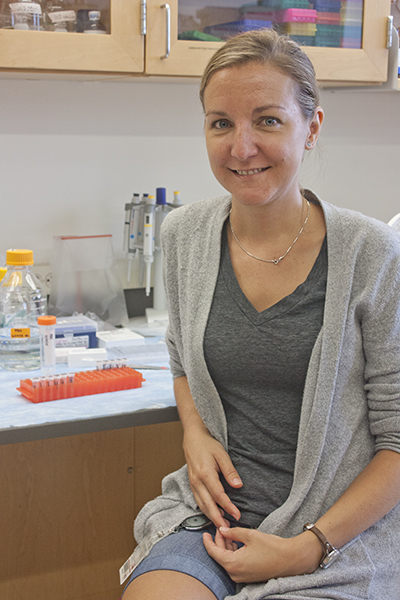 Postdoc Larkins receives K01 grant
Receiving the Mentored Research Scientist Development Award was one of the most exciting moments of Christine Larkins' professional career.
Larkins, a research assistant professor in Martin Cohn's lab in the department of molecular genetics and microbiology, applied for the grant from the National Institute of Diabetes and Digestive and Kidney Diseases last June.
She waited until February to find out that she had been awarded the grant.
"I tried to not think about it too much. and focus on lab work," Larkins said.
The award is intended to fund postdocs who are drawing close to the end of their postdoc period, and as they approach work in a new lab.
"Christy is the complete package– she is a first class scientist, an outstanding teacher, and a great colleague," said Martin Cohn, Genetics Institute faculty member.
The five-year award covers salary, and provides a stipend for research materials. She will be able to carry the funding if she transfers to another institution.
"It's really competitive to get a job in academia," Larkins said. "(It feels good) knowing that I had this award, and it would increase the chances of me getting my own lab."
Larkins studies sexual differentiation of the urethra.
"I'm focused on a particular part of the urethra that's important in females for development of the vagina," Larkins said.
In embryos, the vagina is connected to the urethra. If the embryo follows normal development, the vagina and urethra eventually separate. Her aim is to understand the mechanism that causes the separation.
"I kind of realized a lot of studies hadn't looked at vagina development, and how that how happens, and I became interested in understanding that," Larkins said.
She has worked in Cohn's lab since January 2011. She hopes her remaining time at the university will enable her to publish more papers, and become more established as a researcher, before she starts looking for jobs in the future.
"We are very lucky to have Dr. Larkins here," Cohn said. "Her expertise in molecular genetics and cell biology is providing new insights into the causes of a terribly important problem in women's health– structural defects of the lower urinary tract and vagina."