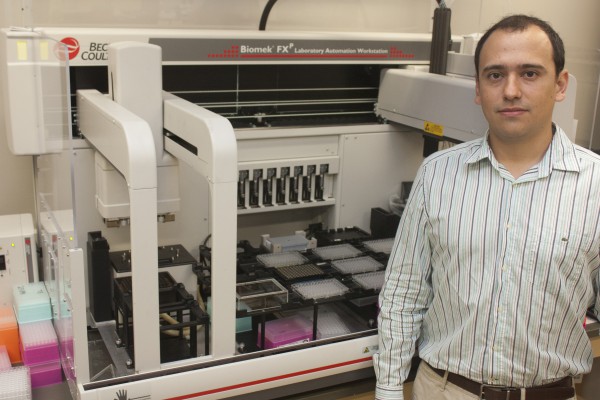 Alumni Spotlight: Marcio Resende, entrepreneurship through science
When Marcio Resende looks back to the two years spent simultaneously pursuing his Ph.D. and founding a company, his eyes go wide thinking about how busy that time was.
He came to the Genetics Program to do research with Matias Kirst. Both originally hail from Brazil, and shared professional associates. Kirst performs innovative research in trees. Resende worked in one of the research lines of Kirst's lab using a technique called genomic selection in pine trees to predict yet-to-be-seen phenotypes based on genomic information.
During Resende's second year of graduate school, he, along with Kirst, and fellow researcher Leandro Neves founded a genetics research company called RAPiD Genomics. It is now housed in the Florida Innovation Hub on Second Avenue.
"We basically provide tools for breeders and researchers to use genomics in their programs," Resende said.
A client submits the genetic material for a plant or animal species, and RAPiD Genomics analyzes the genetic information, which allows the client to use it in various ways. They may compile the data into charts showing how various members of one group are related to one another, or what their origins are. Or they may use it to determine which individual plant or animal appears to be the most robust, and breed from it.
Unlike many scientists, Resende doesn't spend much time in a white lab coat slaving over samples. Much of his work is done on the computer, doing bioinformatics, and running prediction models.
But what was it like when Resende was still in grad school, and the company was trying to move off paper and into a building?
"It was tough," Resende said. "It was extremely tough."
He would go from the stress of working on his doctoral program to the stress of helping his business partners realize their dream.
"You're always doubling your efforts," Resende said.
But the doubled efforts were helping him learn twice as much. He took what he was learning during his graduate research and poured it into his business and vice versa.
And it was worth the years of late nights.
"Absolutely," Resende said. "No doubt about that. I was exposed to a lot here that I wouldn't have if I didn't create my own company."
And the Genetics Institute enabled Resende and his collaborators to achieve their dream.
Although Resende, Kirst, and Neves all knew each other previously, they were finally in a place to collaborate through the University.
"It was great to have a group of people together with different areas of expertise- faculty and students," Resende said.