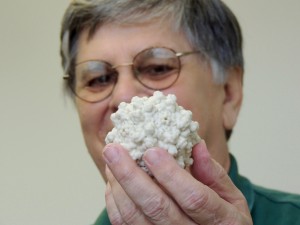 WUFT– For disease therapies, UFGI researcher inducted to hall of fame
Doctors told George Fox that his son, Phoenix, wouldn't live into his teenage years.
But Phoenix — who has Pompe disease, a rare form of muscular dystrophy that has made him reliant on a ventilator to breathe and other people for mobility — has persevered thanks to a gene-therapy trial at the University of Florida that he started when he was 7.
Now 13, Phoenix is in good spirits thanks to UF microbiology professor Dr. Nicholas Muzyczka's breakthrough work on gene therapy.
On Sept. 16, Muzyczka was inducted into the Florida Inventors Hall of Fame for his work, which has led to patients like Phoenix's longevity and potential treatments for Alzheimer's, heart, Parkinson's and pulmonary diseases.
"This opens up a new world and creates a brand new form of medicine," he said.
Muzyczka is being recognized for the framework he developed on gene therapy, which has been successfully used to treat both humans and animals.
He described his work as being similar to stem-cell therapy and said it essentially turns viruses into a treatment for genetic diseases.
To be inducted into the Florida Inventors Hall of Fame, a person must have graduated from a Florida university or college or have been a resident of Florida and must hold at least one U.S. patent. Muzyczka holds 15.
"You must have created something [that] has been significant to society as a whole and, even more so, helped to improve the lives of Floridians," said Holly Behrend, the research outreach administrator at the University of South Florida, where the hall of fame is located.
Judy Lowry, director of research and innovation at USF, said anyone in the scientific field or in the university system can nominate an inventor, although a nomination may sit for up to three years.
Muzyczka isn't the only one from UF in the hall. Gatorade inventor Robert Cade, a former UF professor of medicine who passed away in 2007, was inducted in 2014. Three other UF inventors, Janet Yamamoto, Nan Yao Su and Robert Howard Grubbs, are also in the hall.
Muzyczka said he is excited about receiving such an honor, but what matters most to him are patients' success stories.
Gene therapy has worked best on patients who suffered from diseases such as Leber's congenital amaurosis, an inherited disease that results in severe vision loss.
"People would tell me, after not being able to see anything in the dark, that they would turn over and read their LED alarm clock in the middle of the night," he said.
Muzyczka said his favorite story is about a dog named Lancelot used in a clinical trial. Lancelot, who could hardly see, was eventually able to finally play Frisbee with his owner because of gene-therapy treatment he received in 2000.
Barry Byrne, a molecular genetics professor at UF and long-time colleague of Muzyczka's, said after the trial that helped Lancelot see, the medical field was beginning to look optimistically at gene therapy.
Bryne described Muzyczka as the "ultimate team player and leader."
"He provided the scientific leadership and vision to bring [gene therapy] to where it is now," he said. "We're on the cusp of making these discoveries available to impact previously untreatable genetic diseases."
Since it started to be used on humans in the early '90s, gene therapy has proved to be successful in helping people like Phoenix live life easier.
Prior to his clinical trial, Phoenix was able to breathe without a ventilator for only about 20 minutes, George Fox said. Now, he can on his own for about an hour and a half.
Today, Phoenix and his family live in Newberry, Florida, and enjoy going to the movies and bowling on the weekends.
There is still a lot of room for improvement when it comes to Phoenix's condition, Fox said. But, he added, gene therapy is the Holy Grail of medicine for families like his.
"This is a monumental treatment," Fox said. "It gives us hope. The only thing that keeps us going."
By Mireillee Lamourt/WUFT News
Story originally published by WUFT News