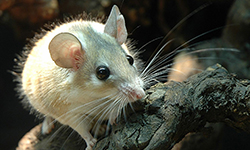 Vote for Barbazuk, Maden research in PacBio contest
University of Florida Genetics Institute faculty members Brad Barbazuk and Malcolm Maden have entered a competition called "Explore Your Most Interesting Genome." The team is one of five finalists competing for a prize of one library prep and 10 SMRT cells worth of sequence on Pacific Bioscience's new Sequel platform. The contest is sponsored by Pacific Biosciences.
The group that receives the most votes on its webpage wins the contest. You can vote for Barbazuk and Maden's work here.
The team has entered Maden's work studying the regenerative capabilities of the spiny mouse. This rodent possesses a defense mechanism that makes it unique among mammals. Its skin pulls away easily, allowing the rodent to escape predators.
However, what makes it special is that the spiny mouse can completely regenerate the tissue it loses. It regrows new connective tissue attaching the dermis to the muscle, new skin and hair, all without scarring.
Regenerative capabilities have been observed in some lower vertebrates, but before never in mammals.
"Understanding what makes spiny mouse capable of this will provide information that will hopefully be transferable to humans and will advance the efforts of the regenerative medicine community," Barbazuk said.
If they win, the team plans to use the prize to "catalog the genetic composition of spiny mouse by sequencing its transcriptome, and compare this to gene catalogs of non-regenerative mammals," according to the contest page.
While they have plenty of short read expression data contrasting wound healing in spiny mouse compared to lab mice, they lack the necessary gene reference for spiny mouse, as its genome has not been sequenced.
They have found trying to assemble a transcriptome with the short read data can be prone to errors. The PacBio award would provide them with a deep long read transcriptome sequence that will serve as a reference, so they can better utilize their expression data to identify differences between spiny mouse and lab mice regarding gene expression related to wound healing
The team hopes to use this information to enhance their understanding of the genetic reasons why certain organisms are able to regenerate parts of themselves, and why other organisms cannot. The more they understand this, the better equipped they will be to identify how this information can be applied to wound healing in non-regenerative organisms.
"The hope is that this information will ultimately advance our understanding of healing, scarring and the regenerative process," Barbazuk said." Everything we find will be made publicly available so that the greater research community can utilize it. The more eyes that look at this, the faster it will make an impact on human health."