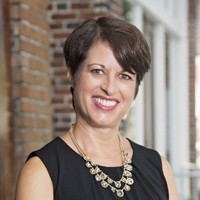 UFGI researcher, College of Pharmacy dean to receive prestigious pharmacy research award
Julie Johnson, Pharm.D., dean of the University of Florida College of Pharmacy, will be honored next week with the top research award presented by the American Association of Colleges of Pharmacy, or AACP.
The Volwiler Research Achievement Award recognizes Johnson for her contributions to the field of pharmacogenomics, the study of how genes affect a person's response to drugs. Johnson, also a distinguished professor in the UF College of Pharmacy and UF College of Medicine, will receive the honor during the AACP annual meeting in Anaheim, California, on July 25.
"The Volwiler Research Achievement Award is an incredibly prestigious honor, and I am grateful to be this year's recipient," Johnson said. "The award is especially meaningful because it represents recognition from my peers for my research accomplishments at the University of Florida and beyond."
As one of the pioneers and leading scientists in pharmacogenomics, Johnson has focused her research interests in cardiovascular pharmacogenomics and genomic medicine implementation. She leads National Institutes of Health-funded programs in hypertension pharmacogenomics and the implementation of pharmacogenomics into clinical practice. Her research aims to improve therapy for individual patients, and she was instrumental in designing guidelines for individualized dosing for the blood thinner warfarin based on pharmacogenetic information.
Johnson has secured nearly $40 million in funding, written more than 250 original articles and was named a 2015 Thomson Reuters Highly Cited Scientist for being among the top 1 percent of cited authors in pharmacology and toxicology. She is one of a select group of pharmacists to be elected to the prestigious Institute of Medicine, now known as the National Academy of Medicine. In addition, she is serving as president of the American Society of Clinical Pharmacology and Therapeutics in 2016.
"Dean Johnson represents the best of academic pharmacy research, and she has made a significant impact on the health and wellness of many Americans through her pharmacogenomics studies," said Lucinda L. Maine, Ph.D., R.Ph, AACP executive vice president and CEO. "She joins the ranks of many of esteemed pharmacy researchers who have won the Volwiler award."
The Volwiler Research Achievement Award was established in 1977 as the top research prize in academic pharmacy to honor the late Ernest H. Volwiler, former president and research director of Abbott Laboratories. The annual award recognizes an individual within the ranks of pharmacy education recognized by his or her peers as one of the leading researchers in a given area of the pharmaceutical and clinical sciences.
Johnson is only the third woman to receive the Volwiler award. With her honor, the UF College of Pharmacy joins the University of California, San Francisco School of Pharmacy and the University of Buffalo School of Pharmacy and Pharmaceutical Sciences as the only pharmacy colleges with four Volwiler award winners. Other UF College of Pharmacy honorees include Edward Garrett (1980), Nicholas Bodor (1997), and Hartmut Derendorf (2010).
This article originally appeared here
Matt Splett, Director of Communications, College of Pharmacy