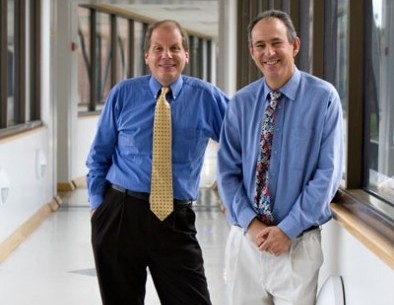 UFGI members named top global researchers in Type 1 diabetes
Two University of Florida Genetics Institute members, Mark Atkinson, PhD, and Desmond Schatz, MD, have been named in the top 10 global Type 1 diabetes researchers by online database Expertscape, a health care information website that allows patients to search for professionals by rank.
"Being on this list is testament to the national and international recognition and leadership of both the Type 1 diabetes program at UF and the individuals involved with it," Schatz said.
Expertscape considered nearly 60,000 researchers from around the world in the list. In additional, UF was named the fifth top institution for Type 1 diabetes research.
To determine rankings, Expertscape's analysis considers the number of researcher's publications, quality of journals that published each article and number of times the articles have been cited. Atkinson earned his second place ranking in the list based on 110 published articles, while Schatz earned his seventh place ranking based on 80 articles.
Over the course of the 30 years both faculty have spent at UF, Atkinson, a professor in the department of pathology, immunology and laboratory medicine, and Schatz, a professor in the department of pediatrics, have frequently worked together on Type 1 diabetes research.
Schatz began his research in Type 1 diabetes during the 1980s and currently serves as principal investigator for TrialNet, an international network of scientists focused on preventing and reversing Type 1 diabetes. Both researchers are also involved in the American Diabetes Association. Atkinson is the current ADA eminent scholar for diabetes research and Schatz will serve as president of the ADA beginning in 2016.