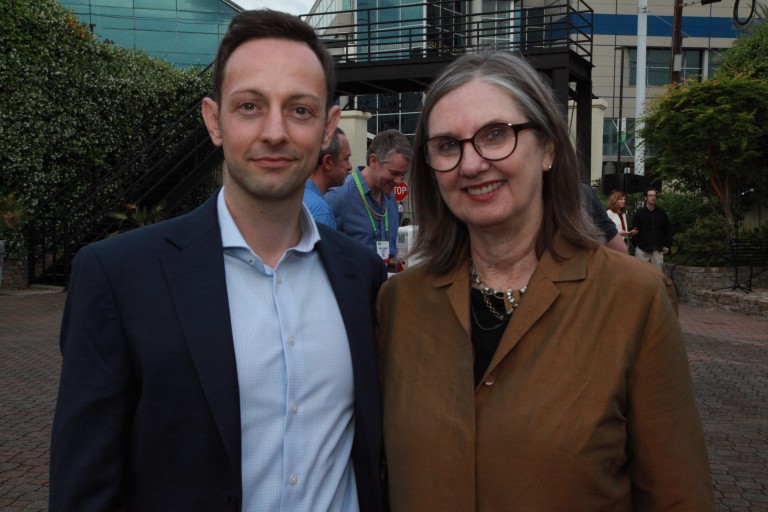 UFGI big data researcher wins Illumina Go Mini Scientific Challenge
A Mini Cooper will soon be traveling Florida streets and highways as part of the University of Florida HealthStreet community engagement program, collecting bugs and bug "splats" on the bumper for a study of mosquito-borne viruses.
The UF study, led by Mattia Prosperi, Ph.D., M.Eng., an associate professor in the department of epidemiology at the College of Public Health and Health Professions and the College of Medicine who was hired under UF's preeminence initiative, won the Illumina Go Mini Scientific Challenge. Prosperi is also a faculty member at the UF Genetics Institute.
The company asked researchers to submit proposals for how they would use the company's new compact DNA sequencer, the MiniSeq, to accelerate their research. Prosperi's creative proposal, which combines emerging pathogens research with a community engagement program, was peer-reviewed and selected from more than 1,100 applications worldwide. The prize includes a next-generation sequencing MiniSeq machine, materials for three data runs and a new Mini Cooper car, all valued at about $100,000. The competition results were announced on April 18 at the American Association for Cancer Research meeting.
"Dr. Prosperi's study of mosquito-borne pathogens is an excellent example of the creative and impactful scientific studies that are possible with next-generation sequencing," said Sam Raha, Illumina's vice president of global marketing. "Our company is committed to unlocking the power of the genome to improve human health and we were pleased that Dr. Prosperi's research will help achieve that goal by leveraging the MiniSeq system and Illumina technology to track pathogens throughout Florida and help public health officials improve containment programs, while also engaging community members."
Prosperi, a member of UF's Emerging Pathogens Institute and UF's Genetics Institute, said the challenge when developing his proposal was coming up with an idea that would make the best use of both the MiniSeq and the car in a project that was scientifically sound, unique and that focused on social justice. Almost from the outset he knew he wanted to incorporate the car into HealthStreet's efforts. Founded by Linda B. Cottler, Ph.D., M.P.H., chair of the department of epidemiology and PHHP's associate dean for research, HealthStreet works to reduce disparities in health care and research by linking community members to social and medical services and connecting people to opportunities to participate in health research. Jointly supported by the UF College of Medicine, the UF College of Public Health and Health Professions and the Clinical and Translational Science Institute, HealthStreet has locations in Gainesville and Jacksonville and does work in 17 Florida counties. Cottler's team has identified lack of transportation as a major barrier to health care for some residents, particularly those in rural areas.
"It was extremely creative of Mattia to think of this project and how it can integrate and blend with a community engagement program," Cottler said.
For the other piece of the project, Prosperi was interested in monitoring mosquito-borne diseases. Florida's climate and popularity as a tourist destination make the state vulnerable to potential outbreaks of disease caused by viruses such as chikungunya, dengue and Zika. He knew he'd found a role for the Mini Cooper when he learned that Mark Hostetler, Ph.D., a professor in the department of wildlife ecology and conservation at UF's Institute of Food and Agricultural Sciences, had successfully collected insect samples for analysis from vehicle windshields and bumpers, a study method Hostetler calls "splatology."
Insect samples collected during the Mini Cooper's travels will be taken to the lab of Volker Mai, Ph.D., M.P.H., an associate professor in the department of epidemiology. His lab is situated in the Emerging Pathogens Institute, where the MiniSeq will be housed. Each run of the MiniSeq produces 20 gigabytes of data, which Prosperi and his team, including epidemiology doctoral student Jae Min, will analyze to identify pathogens carried by the insects.
"It is vital for us to understand if chikungunya, dengue and Zika viruses are entering Florida or if they have already entered, but aren't established yet," Prosperi said. "Our study aims to understand the diversity of pathogens in Florida at the genetic and vector level which can be used to implement infection control at a public health level."
This article was originally published here
Credit: Evan Barton, Emerging Pathogens Institute & Jill Pease, College of Public Health and Health Professions