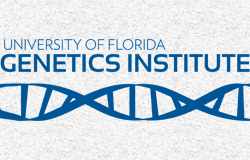 Six Genetics Institute faculty awarded UF Research Foundation Professorships
The Genetics Institute is proud to congratulate six faculty members who received the distinguished University of Florida Research Foundation (UFRF) Professorship.
The three-year UFRF Professorships are awarded to tenured full-time associate and full professors. Selection is based on performance in the past five years and having a current research program that places them among the leaders in their discipline and is likely to lead to continued distinction.
Candidate nominations were made by respective Department Chairs between January and March of this year.  Each of the 34 annual awards includes an annual salary supplement and grant to support research.
The following six UFGI members and professors from varying departments across campus were awarded a 2014 UFRF Professorship.
Florida Museum of Natural History

Nico Cellinese – Associate Curator of Natural History

Institute of Food and Agricultural Sciences

Valerie de Crecy-Lagard – Associate Professor of Microbiology and Cell Sciences
Jeffrey B. Jones – Professor of Plant Pathology

College of Liberal Arts and Sciences

Clarence C. Gravlee – Associate Professor of Anthropology

College of Medicine

Lauren M. McIntyre – Professor of Molecular Genetics and Microbiology
Rolf Renne – Professor of Molecular Genetics and Microbiology