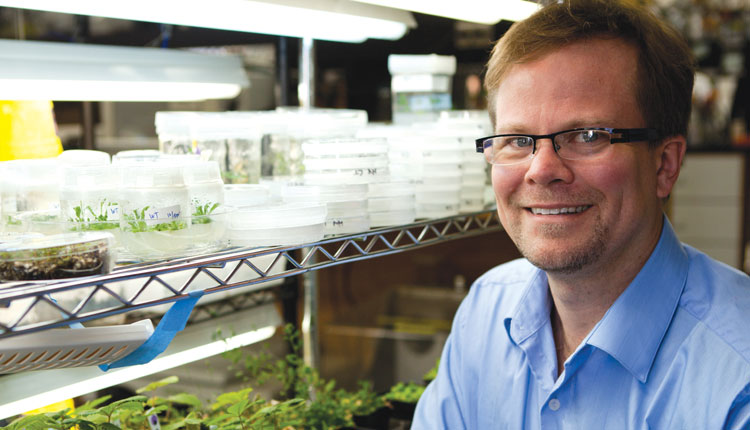 Sharing science: Kevin Folta's career in horticulture, research advocacy
For as long as he could remember, Kevin Folta wanted to be a scientist.
One of his earliest memories is sitting in the living room with his dad, barely 3 years old, watching the Apollo missions on their black-and-white TV.
Another is listening to Mr. Rogers sing, "You Can Never Go Down the Drain."
You're bigger than the water…
You're bigger than the soap…
"What's that mean?" he asked his dad.
"Ah! Good question," he replied, going into an explanation of how water is made of atoms and molecules.
Fast forward several decades– Folta now serves as a professor and Chairman of the Horticulture Sciences department, Genetics Institute faculty member and UF/IFAS researcher. He has been at the University of Florida since 2002.
His lab studies strawberries.
"We study how light controls plant biology– particularly fruit quality," Folta said. "We also study genes associated with fruit quality. We do flavors, textures, colors– strawberry science."
From 2007 to 2010 he helped lead efforts to sequence the strawberry genome. During the project, they discovered molecular markers that speed traditional breeding for enhanced flavors.
"I ended up snatching that effort from the jaws of apathy, and actually drove it to publication," Folta said. "Consumers should be tasting our work in the next few years."
His goal is to produce a superior strawberry– a fruit that is tastier for consumers, and more lucrative for the farmers who grow them.
His lab has identified the genes that control the grape and peach notes in strawberries. They have also identified light treatments that can influence their sweetness and longevity.
"There's no easy answer in strawberries," he said. "That's what we're trying to fix."
Cultivating a love of learning
Folta's father's schooling ended with high school, but his education didn't. He passed his love of science and learning on to his son.
A cartful of groceries and $3 could get you an installment to an encyclopedia set at the grocery store. Each week Folta came home with a new one.
He was fascinated with the articles about bats and dinosaurs– spellbound by diagrams of the spinal column.
As a junior-junior researcher, Folta staged scientific studies and experiments at home.
"I used to grow a lot of plants- anything you could grow from a seed, and always had animals," Folta said. "It was exposure to curiosities about why life worked."
Still, Folta never intended to go into horticulture.
"I always knew I was interested in genetics– interested in ideas of genes and recombinant DNA," Folta said. "It was intriguing that traits could move through time from organism to organism, and that we could understand the patterns, and even control the patterns."
He did his graduate training in molecular biology. By the time he was done, he didn't know any more about plants than he did yeast or animals.
In 2002 he was hired by the University of Florida as an assistant professor in the Horticultural Sciences Department.
"It was like when Dorothy walked out of the black-and-white and into the [Land] of Oz," Folta said. "All of a sudden I saw a bigger vision where the crap in the test tube could translate to bigger results for farmers and consumers."
The watchword was "relevance."
"That's what the UF told me," Folta said. "Your research can have relevance beyond six eggheads that read your paper."
Here, they weren't merely working toward a journal publication.
They worked to help people.
That was exactly what he wanted to do, just like his scientific hero Norman Borlaug– the biotechnology titan nicknamed "The Man Who Saved A Billion Lives." Borlaug was a key researcher in the development of "dwarf wheat," a strain with a shorter, sturdier stalk that enables it to support a larger seed head.
The plant revolutionized wheat farming in struggling nations around the world. His nickname comes from the estimate that dwarf wheat saved one billion people from inevitably starving.
He was awarded the Nobel Peace Prize in 1970.
"He was a scientist from simple beginnings that thought outside the box and changed the way we think about genetics and plant breeding, and fed a billion people," Folta said.
Sharing his science
Ever since he was little, it was never enough to stay secluded in a lab.
In elementary school he would volunteer to do experiments in front of the class. Old stand-bys like mixing baking soda with vinegar– giggling along with the other first-graders when it bubbled over.
Roughly once a week, he hits the road to give a talk addressing misconceptions about scientific topics. But he's on the Web from dawn until long after everyone else has gone home, answering Q&As about GMOs, blogging or advocating for his research on social media.
"What makes Dr. Folta's research all that more impressive is that he manages to maintain a top-notch research program while simultaneously serving his academic colleagues as a department chair and the broader public through his outreach and educational efforts," said Genetics Institute Director Pat Concannon. 
As a biotechnology researcher, part of Folta's outreach is confronting misconceptions about modern agriculture technologies. He strives to replace those fears with confidence in the good these tools are doing for underserved people around the globe.
"There's a very clear disconnect between the wonderful things we learn from science and the public understanding," Folta said. "We need to make public awareness a priority, and we need to give scientists the tools to effectively participate at that interface."
In grade schools, he talks to kids about light and plants. With the League of Women Voters, the Rotary Club or university audiences the content is more critical– how modern agricultural practices are enabling farmers to feed more people with the same amount of land.
And how scientists are introducing nutrient qualities from other foods into staple foods, such as rice, to enable impoverished people groups to gain more critical nutrients from their limited food sources.
"I try to be the interface with the public for science," Folta said. "I realized at some point that the most important contributions to science won't come out of my lab. They'll come out of my mouth."
Looking back, pressing forward
His outreach efforts are among his proudest achievements.
"I think I'm proud of changing the way that some people think about biotechnology, because I have changed a lot of minds," Folta said. "I think I'm really happy with how I helped shape programs to train postdocs, and maybe help them feel more appreciated."
It's easier for him to talk about the accomplishments of others. He admits feeling intimidated by the accomplishments of those around him.
"I've always felt like I don't belong here," he said. "Never feel good enough to be here– I work with such great people."
But it's hard to imagine anyone working harder.
Folta said he works from 6 a.m. until midnight almost every day of the week.
"Except for gym time and running time," he said. "That's it."
But he's not about to slow down.
"Because, if you're lucky, you get a hundred years in this planet," Folta said. "And I feel I'm not doing the right thing if I'm not filling every single minute, and this is what's important to me. Other people it's driving a Porsche down a Pacific Coast highway. I have no interest. I'd rather write a grant."
Words: Ellison Langford, UFGI

Photo: Tyler Jones, UF/IFAS