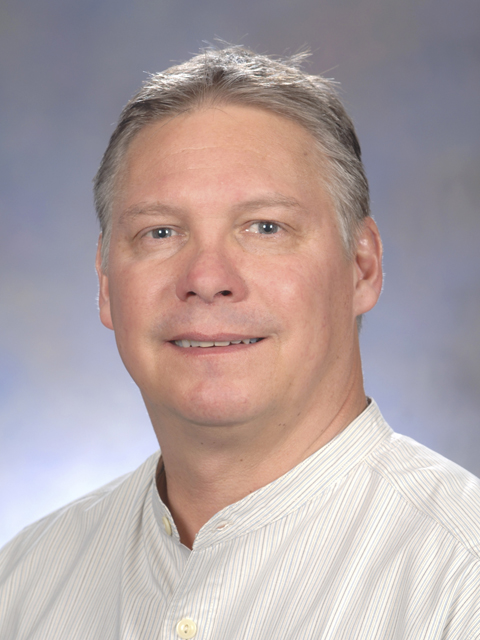 Rolf Renne, University of Florida professor of Molecular Genetics and Microbiology and Genetics Institute member, was recently awarded a 2014 UF Research Foundation Professorship for his substantial work in the field of genomics and contributions to research.
His research focuses on better understanding the Kaposi's sarcoma-associated Herpesvirus (KSHV), also known as human Herpesvirus type 8 (HHV-8), which is the leading cause of AIDS-associated cancer and also has high incidence in organ transplant recipients.
Although uncommon in the United States, Kaposi's sarcoma is more prevalent than lung cancer in parts of Brazil and south Saharan Africa, where 25-70 percent of the population is infected with KSHV.
Renne's lab has demonstrated how the latency-associated nuclear antigen (LANA), a viral protein expressed in all KS tumors, binds to the KSHV genome and contributes to viral DNA replication and gene expression. Currently, his team of postdoctoral associates, graduate and undergraduate students is investigating how suitable LANA would be as a target for antiviral compounds.
Another area of interest in his lab is the role of KSHV-encoded microRNAs (miRNA), as Renne's lab was one of the first to demonstrate their existence. Renne is now focused on identifying gene targets of these miRNAs and their contribution to viral pathogenesis and tumorgenesis.
Renne has been awarded three National Cancer Institute grants supporting his extensive work in the field of genomics. To further his research, he established a viral Genetics and Genomics core laboratory at UF, which is now a national resource specializing in creating recombinant Herpesvirus genomics with mutated miRNA genes.
Working within the Genetics Institute at the Cancer & Genetics Research Complex has accelerated his research, Renne said. Collaborations with a number of colleagues at UF and beyond have lead to numerous publications, including a recent study showing a connection between parasite infection and KSHV-associated cancer.
His success in research can be traced back to when he was a Howard Hughes Medical Institute postdoctoral trainee at the University of California, San Francisco. He was a member of the team lead by Dr. Don Ganem that first cultured KSHV, a hallmark study featured in a 1996 New York Times article.
With an array of accolades and variety of current research projects, Renne explains that what drives him out of bed each morning and into the lab is simple: "as a geneticist, you want to see how life works."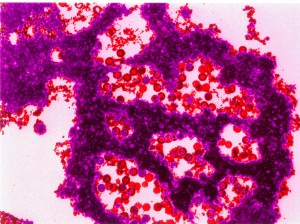 Featured Publications:
Hu J, Yang Y, Turner P, Jain V, McIntyre LM, Renne R. LANA binds to multiple viral and cellular promoters and associates with H3K4 methyltransferease hSet1. PLoS Pathogens 2014 Jul 17;10(7):e1004240.
Haecker I, Gay LA, Yang Y, Hu J, Morse AM, McIntyre LM, Renne R. Ago HITS-CLIP expands understanding of Kaposi's sarcoma-associated herpesvirus miRNA function in primary effusion lymphomas. PLoS Pathog. 2012;8(8):e1002884. doi: 10.1371/journal.ppat.1002884.
Renne R, Zhong w, Herndier B, McGrath M, Abbey N, Kedes D, Ganem D. Lytic growth of Kaposi's sarcoma-associated herpesvirus (human herpesvirus 8) in culture. Nature Medicine. 1996; 2(3):342-346.
Reese TA, Wakeman BS, Choi HS, Hufford MM, Huang SC, Zhang X, Buck MD, Jezewski A, Kambal A, Liu CY, Goel G, Murray PJ, Xavier RJ, Kaplan MH, Renne R, Speck SH, Artyomov MN, Pearce EJ, Virgin HW. Helminth Co-infection Reactivates Gammaherpesvirus Infection Through Viral Promoter-targeted Cytokine Competition. Science. 2014 Aug 1;345(6196):573-7.