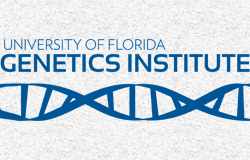 Five UFGI faculty named UF Research Foundation professors
In April the University of Florida Research Foundation released the names of the 34 faculty named as UFRF professors for 2016-2019. Five UF Genetics Institute members received the award.
"The UFRF Professors were recommended by their college deans based on nominations from their department chairs, a personal statement and an evaluation of their recent research accomplishments as evidenced by publications in scholarly journals, external funding, honors and awards, development of intellectual property and other measures appropriate to their field of expertise. In many colleges, the selection process is conducted by a special faculty committee," according to an article from Office of Research communications staff.
The award includes a $5,000 annual salary supplement and a one-time grant of $3,000.
The UFGI faculty who received this cycle's award are:
My T. Thai, professor of computer and information science and engineering
A. Mark Settles, professor of horticultural sciences
Wilfred Vermerris, associate professor of microbiology & cell science
Leonid L. Moroz, distinguished professor of neuroscience
Laura P.W. Ranum, professor of molecular genetics and microbiology