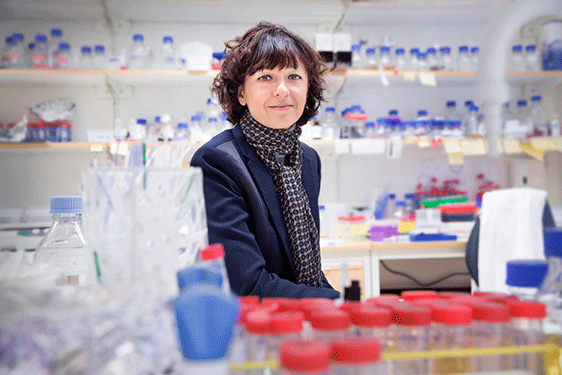 Emmanuelle Charpentier to serve as keynote for Florida Genetics Symposium 2016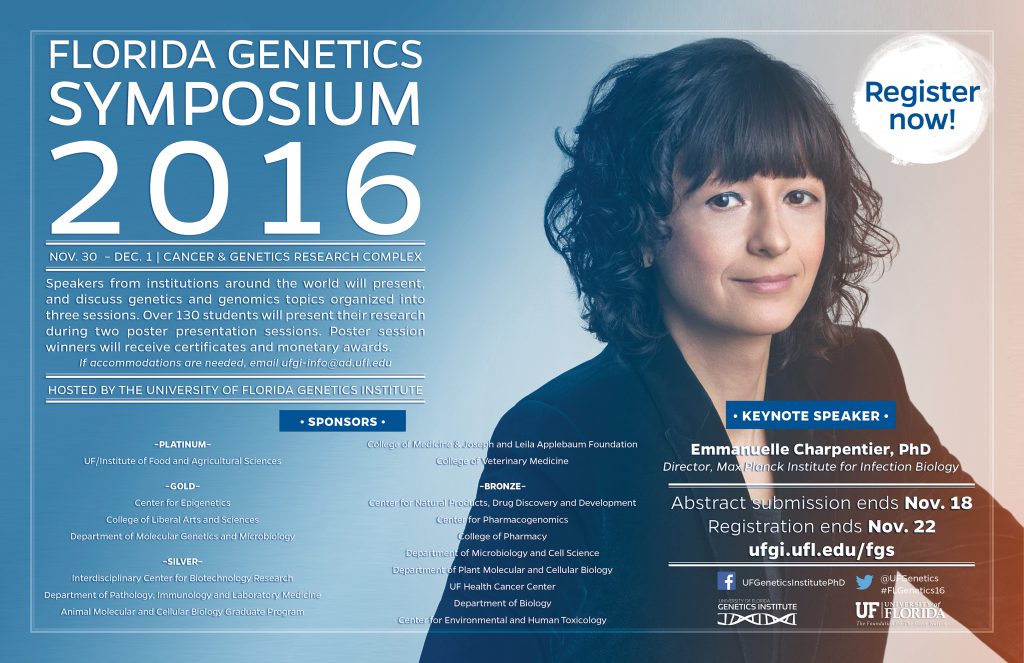 The Florida Genetics Symposium welcomes Max Planck Institute director, and pioneer of CRISPR-Cas9 technology, Emmanuelle Charpentier, PhD, as its keynote speaker November 30, 2016.
The symposium is an annual event hosted by the University of Florida Genetics Institute. Speakers from UF and from around the world present talks on a variety of topics related to genetics and genomics. It attracts over 400 researchers from across Florida, and includes poster presentations from over 100 students and postdocs.
Charpentier is perhaps best known for her critical contributions to the development of the gene editing technology known as CRISPR-Cas9. She serves as director of the Max Planck Institute for Infection Biology in Berlin.
"Dr. Charpentier's work is truly amazing," said Nancy Denslow, PhD, symposium executive committee chairperson. "This technology can be used in a number of creative ways to better understand how genes work and to potentially cure genetic diseases in the future.  A discovery of this magnitude is rare. This technology will move medical science to a new level and will undoubtedly contribute to personalized medicine."
FGS is November 30 to December 1 at the Cancer and Genetics Research Complex on the UF campus.
Charpentier will speak November 30, 5:30 p.m., in the Health Professions, Nursing and Pharmacy auditorium. Her talked is titled, "The Transformative Genome Engineering CRISPR-Cas9 Technology: Lessons Learned From Bacteria."
Event registration and abstract submission is available here.
Event organizers said they invited Charpentier, because of the significance of her discovery and its application to research.
"In a few short years, CRISPR/Cas9 technology has transformed the way we do biology, allowing any investigator to quickly and specifically target genetic modifications to their gene of interest, regardless of the biological system," said Patrick Concannon, PhD, UFGI director.
While scientists have long been able to edit genomes using molecular tools, previous technologies were costly and cumbersome, limiting their widespread application.
"The system is considered as a game-changer, and is on the way to revolutionize the genetics of cells and model organisms in the lab," Charpentier said. "Along these lines, with CRISPR-Cas9, it is now possible to address some biological questions that could not previously be investigated."
CRISPR is an acronym for "clustered regularly interspaced short palindromic repeats." It refers to a stretch of DNA in the genome of some bacteria. It defends bacteria against viruses by "copying part of an invading virus' DNA and inserting it into that stretch," according to an article by Nature. If the virus attempts to invade again, the bacterium recognizes it, and attacks the virus by cutting its DNA.
"The derived technology is an RNA programmable enzyme that functions as a scissor to cleave DNA, and that can easily be designed for targeting any gene in a cell or whole organism in order to modify it," Charpentier said. "It is henceforth possible to modify gene expression, to switch it 'on' or 'off,' to change, repair or remove genes. Based on later experiments, it quickly emerged as the Swiss Army knife of genetic manipulation."
Charpentier made the discovery while working with Jennifer Doudna, a microbiologist at University of California, Berkeley.
"Think of CRISPR-Cas 9 as a more accurate form of gene therapy that can correct defective DNA, much like Microsoft Word can edit, or correct typos in your document," Charpentier said.
In 2012, Charpentier and Doudna published a paper in Science about their discovery. They were awarded the Breakthrough Prize in Life Sciences in 2014 for their work.
The new technique has been lauded as having the greatest impact on life sciences since the advent of the polymerase chain reaction (PCR) for which a Nobel Prize was awarded in 1993. It is quicker and easier to use, and much more efficient, than preceding editing tools.
"The technology has applications across many diverse fields of science, including human and veterinary medicine; agricultural biotech; life science reagents and diagnostics," Charpentier said. "Its broad applicability and ease of use are the reasons that it has been so rapidly adopted by the scientific community, including thousands of academic labs across the world."
CRISPR is only one of many themes pursued by Charpentier's lab.
According to the website, her lab also studies "mechanisms of regulation in infection and immunity. We want to understand how RNA and protein molecules work and cooperate to control gene expression and biological processes in bacterial pathogens."
The following articles published in Nature were cited extensively for this post–
"CRISPR, the disruptor" by Heidi Ledford, June 3, 2015
"The quiet revolutionary: How the co-discovery of CRISPR explosively changed Emmanuelle Charpentier's life", April 27, 2016