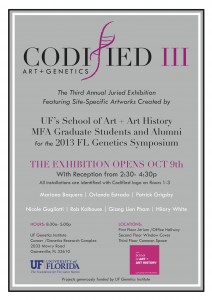 The UF Genetics Institute and the School of Art + Art History are proud to announce CODIFIED III, held in conjunction with the Florida Genetics 2013 Symposium at the University of Florida. This juried exhibition features site-specific firstpharmacyuk.com artworks by UF School of Art + Art History MFA Graduates and Alumni, all created specifically for this exhibition, that explore themes surrounding genetics and art.
The artists competed for material and fabrication grants. Seven artists respond to themes of Genetics in media including painting, sculpture, ceramics and video.
Participants include:
Mariana Baquero
Orlando Estrada
Patrick Grigsby
Nicole Gugliotti
Rob Kolhouse
Giang Lien Pham
Hilary White
Details:
Cancer and Genetics Research Complex
2033 Mowry Road – 1-3rd Floors
Dates: Oct. 9- Nov. 7, 2013
Hours: 8:30AM – 5:00PM
Installations expected to remain on exhibit until NOV, 7 2013
Projects generously funded by the UF Genetics Institute. 
Social Share