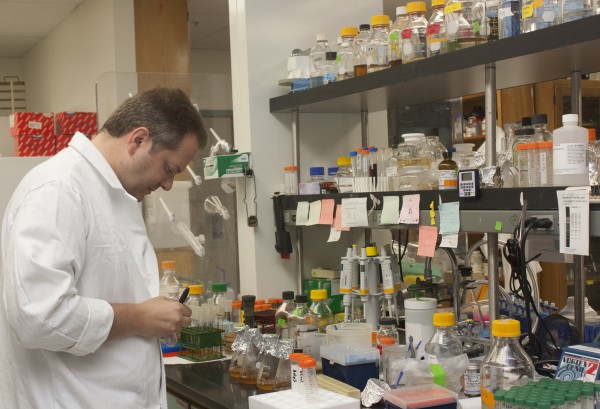 Alumni Spotlight: Patrick Thiaville, PhD, excelling through collaboration
The Genetics Institute helps researchers find one another"
Patrick Thiaville was surprised by how anticlimactic it was to receive two doctoral degrees.
After four years of lab work, data analysis, and typing his dissertation into the wee hours, he signed a few forms and then went back to the lab.
Thiaville earned his concurrent doctorates in tRNA modifications from the University of Florida Genetics Institute and Université Paris-Sud. He was able to do so because the university in Paris accepted the coursework he completed at UF, as well as the dissertation he prepared.
Now he works in Genetics Institute faculty member Dr. Valérie de Crécy-Lagard's lab as a post-doctoral associate in microbiology and cell science.
His research focuses on how RNA transfers into proteins. During his graduate program, he applied for a fellowship from the French Embassy in Washington D.C. French researcher Olivier Namy is renowned for his technique that can detect a gene's influence within a cell. He performs ribosome profiling through high throughput sequencing.
Thiaville wanted to learn from him.
During his graduate program, he spent two six-month stints in Paris. He would do research while he was there, using yeast samples as the basis of his work. They studied the role of genes within the cell, trying to understand the significance of the modifications tRNA makes as it helps synthesize new proteins. He hopes his research will provide insight into the occurrence of disease in humans, and perhaps aid in advancing development of antibiotics.
"I kind of like to know why things work," Thiaville said. "That was why I worked on this gene function thing. When you start tinkering with the system, what happens from that point?"
After spending six months in the lab in Paris, he would return home to analyze the data.
Faculty from the Institute of Food and Agricultural Science and the College of Medicine guided him during his research.
"My best experience was my graduate committee," Thiaville said. "My dissertation was on yeast, and we have some of best yeast people in the world."
He came to the Genetics Institute after earning a Bachelor of Science in microbiology from Southeastern Louisiana University. He chose the Genetics Institute because of its interdisciplinary offerings.
"Because the institute covers everything from plants to humans, it gave me a broad overview of genetic research," Thiaville said.
But he also felt it helped him develop his scientific instincts.
"The big thing we do here is training and to think how to work as independent scientists," he said. "That's what UF gives us, and it's up to us to apply it."
It also provides opportunities for collaboration.
"The Genetics Institute helps researchers find one another," Thiaville said.