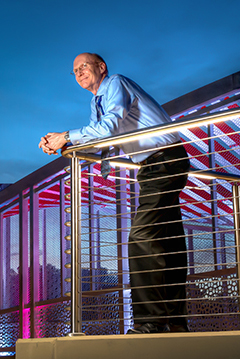 Welcome to the University of Florida Genetics Institute. At the UFGI, our philosophy is that truly innovative ideas and novel insights arise at the interfaces between scientific disciplines. We are dedicated to applying the tools of genetics in a collaborative, multidisciplinary environment to address the difficult scientific problems and challenges of today.
Excellence in genetics and genomics at the University of Florida is achieved through the contributions of the greater UFGI community. The UFGI has more than 200 faculty members from seven different colleges applying genetic approaches to diverse scientific topics ranging from biofuels development to wound healing, to plant breeding to gene therapy. It is the students in our Genetics and Genomics Graduate Degree Program who train today to be the innovators of tomorrow. It is the hundreds of dedicated staff and trainees who work in our laboratories and offices. Finally, it is the people of the State of Florida who support our mission and inspire our efforts.
Genetics can help us to understand the amazing diversity of life, improve the quality and the availability of our foods, and provide novel cures for diseases. The UFGI investigators, students and staff work every day to make a difference in their field of study. The promise of genetics has never been brighter.
Patrick J. Concannon, Ph.D.
Director, UF Genetics Institute