Graduate Program in Genetics & Genomics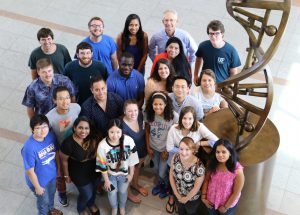 The University of Florida Genetics Institute is a multi-college, multi-faceted research center. What defines our institute, and our graduate program, is our philosophy that good geneticists are integrative geneticists, who incorporate many different genetic sub-fields into their work.
Interests in the faculty span from basic research to applied work, with an emphasis on synergy between faculty. Our core mission is to improve the quality of life of people throughout the world via integrative, genetics-based research.
There are currently 23 Ph.D. students enrolled in the Genetics & Genomics Graduate Program, representing a mix of domestic and international students whose research covers many different topics in genetics and genomics. At this time we do not have a Master's program.
Our program's physical heart is in the Cancer & Genetics Research Complex. However, because of the cross-college nature of the program, faculty and labs are found across campus. Supporting facilities include the
Latest awards won by Genetics and Genomics graduate students and alumni
Ana Caroline Costa Sá will be honored at the American Society for Clinical Pharmacology and Therapeutics 2016 meeting for her Presidential Trainee Award.
Heather Rose Kates received the inaugural Kenneth. I Berns Award for Excellence in Genetics during Florida Genetics Symposium 2015.
Marcio Resende was named a "Young Entrepreneur" by Gov. Rick Scott in honor of his company RAPiD Genomics (September 2015).
Tatiana Salazar won the UF Center for Entrepreneurship and Innovation's 2015 Big Idea competition for her business, StemPoint.
Connect with the UF Genetics Institute & Graduate Program